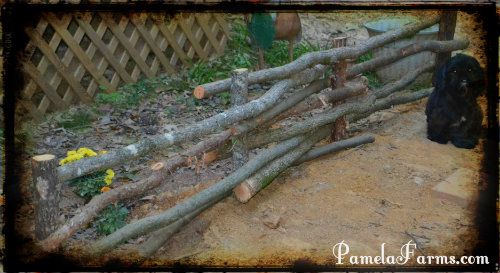 In a post SHTF situation, knowing how to make a wattle fence will be extremely valuable. These fences are quite strong and require only a couple of tools. It is important to use fresh cut green wood, as it is most flexible in this state.
We've mentioned that we believe that store bought wood will be at a premium after a collapse, meaning unaffordable to most people. Therefore we have been doing projects involving freshly cut "green wood" for those of us who will not have access to a lumber mill after a collapse or long term disaster. Our wattle fence project involves protecting the small garden in front of our cabin.
The garden is there for decorative as well as practical reasons. My wife has tried several times to plant flowers and other plants there but they end up dying because of our dogs. Our Dobermans in particular seem to have it out for anything planted there. We have tried several types of "Home Depot" fencing for small gardens but all of these turned out to be flimsy and worthless compared to the mass of two fully grown Dobies.
The awesome thing about wattle fencing is that it requires only a couple of tools and no fasteners! The natural flexibility of the fresh wood AND good, old-fashioned friction holds it together. PLUS it gives your property a very rustic feel and look which is what I love.
There are several variations of making a wattle fence in many different sizes. It really depends on what you are fencing and the look you are going for, as to which method and size of trees to use. If you find that you like this type of fencing, I would suggest researching the different variations and go with what you like the best. I actually plan on using a few other variations for future projects as well.
To construct our wattle fencing you need a saw or axe for felling the lumber. I prefer a small hand saw for the even cuts and I find that it is easier for cutting smaller trees than an axe. The other tool you will need is a shovel or fence pole digger. I have both kinds, the oyster shell digger and the auger. I prefer the auger in our hard clay when I have the room to turn it.
To begin, I lay out where I want to fence poles for the wattle fence. In this case, it required four holes for either side of the garden on each side of our cabin steps. I find digging the fence pole holes to be the hardest part of the project and this is completely relative as the depth of the fence pole holes is only about 2 feet deep. Place the fence poles into the holes and compact the dirt in as tightly around them as you can. I did also use a maul for this part of the job, which is optional. The fence poles may seem a little unsturdy at first but the wattle will make it feel like they are cemented in when finished.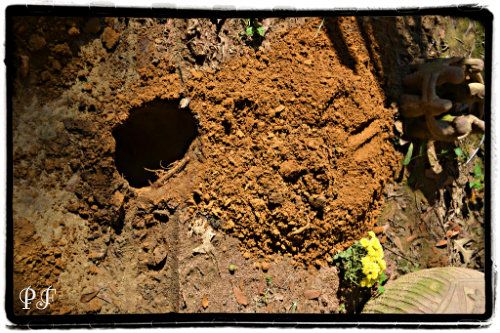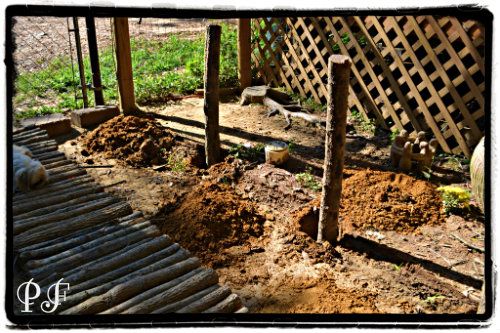 To create the wattle you have to "bow" the tree poles. The natural flexibility of the wood will hold it in place. When you place the next pole you should alternate the direction of wattling. Wattle to the desired height, trim excess from poles and you're finished. From start to finish this project took me about two hours. By far one of the simplest and most satisfying projects yet. By the time you are finished you will discover that the fence will have a natural sturdiness that will surprise you! Trust me and try it!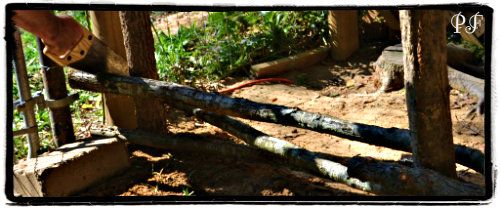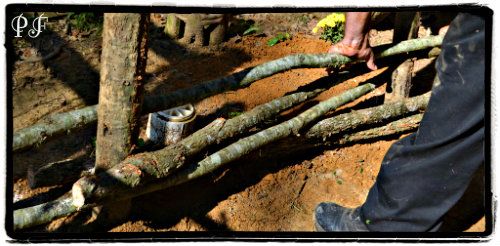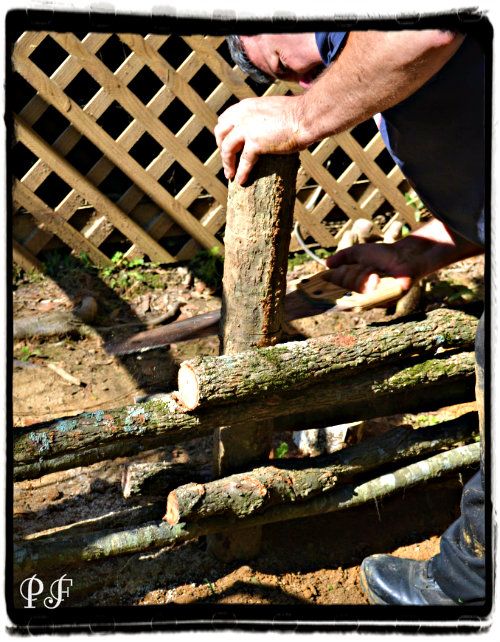 See you tomorrow!
Alicia & Mike
"Empowered Preppers"